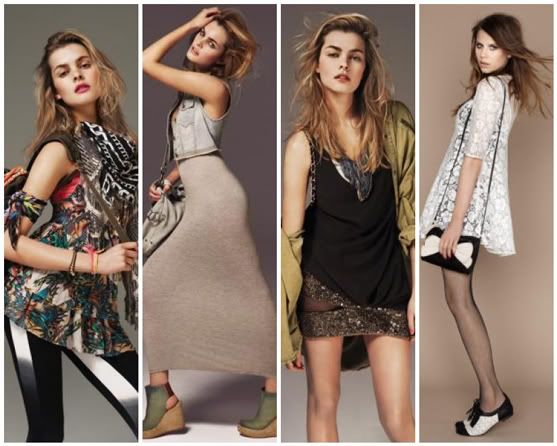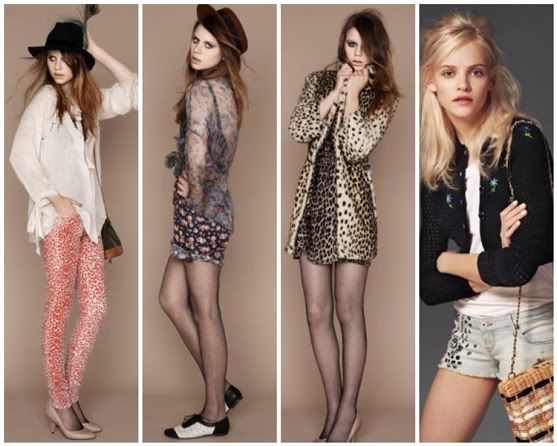 images via
Marie Claire
I got linked to the
Topshop
Summer 2010 Collection
the other day, And fell in love with tons of the stuff in their lookbook. Im in love with the whole feel of the collection. It reminds me of a sort of festivaly-gap year travelling-luxe look. Its full of tribal inspired pieces with a smooth and classic twist. I love the use of sheer tights too. I'm a massive fan of them and think they can make a outfit compared to proper opaque tights! The chunky brown boots may be worming its way into my wardrobe too!
This summer I vow to conquer my fear of the Maxi dress too! They are such versatile peices that can be dressed up or down depending on how you wear them! I want one but being 5ft 5, makes me wonder if I can pull it off. I always wonder what kind of shoes to wear too? Flats? Gladiators? Heels? Boots? I think that
Alexandra from Everybody Else's Girl
wears Maxi dresses so well and it has really inspired me to try one out! I'm sure another
Keep or Return
post will be needed to sort this issue out!
My favourite piece is the white lace dress (image 4) Although by the looks its one of those dresses that are supposed to be worn under something else. I can deal with that! Means I can mix up whats worn underneath! I'm currently on the search for the perfect long sleeved lace dress, and that may satisfy my cravings! Of course I adore the leopard print coat too, and all the hats in the images make me really excited!
Plus one for Topshop for their summer collection! I'm sure I'll go back to checking their website in the hope that the Lace dress will come online! Although from there A/W collection last year I checked their site everyday in the hope they would release this fur coat from their promo shoot, But it never came out! Sad face!