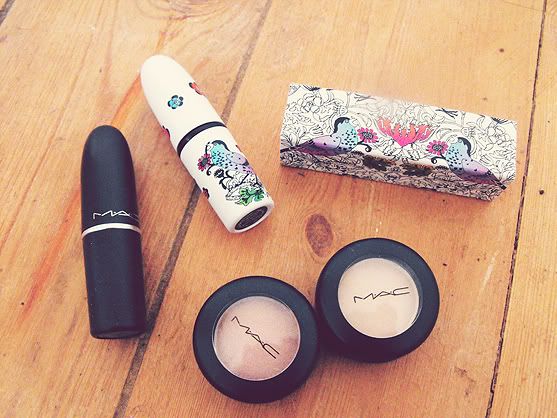 Went to Birmingham today with my boyfriend, Mainly because the call of Give Me Liberty of London (which went online today, typical!) was too much. I only picked up the Ever Hip lipstick though, Its a lovely creamy coral with a nice coverage, especially since I've got mega pigmented lips and sometimes colors don't actually swatch true. I looked at Perrenial High Style but it reminds me of a lipgloss I have but never wear, Ill probs buy it online soon though.
I also ended up buying Hey & Dazzlelight eyeshadows and back2mac-ing for Please me Lipstick. I wanted Jest and Shroom originally but they were sold out. The Viva Glam Gaga was sold out too. Generally annoying day on the makeup front.
The funeral went really well for those who wanted to know. I managed to get up during the service on the spur of the moment and say something about Joel. I didn't plan anything so it wasn't all that insightful, there is so much id say if I could go back and do it again though. We all gave him a proper send off, and I think we all had the hangovers to prove it! How I managed to drive this morning I really don't know!