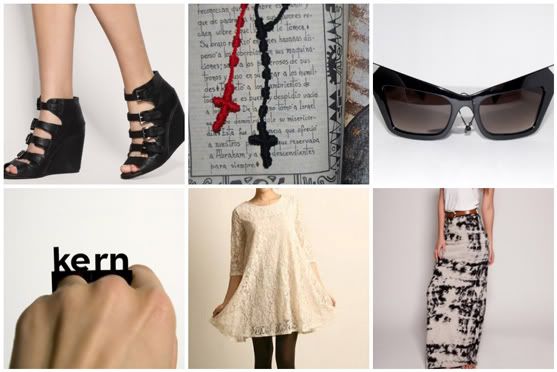 I cant decided if i should buy those cat eye sunglasses, On one hand I love them on the other I'm not quite sure. They are very
Alexander Wang
-esque! Would look awesome in the summer and just add a quirky edge to any outfit! I just don't know if they will suit me, which is always the problem when buying sunglasses online! The Asos Randals are sold out in black (and have been for ages), But I'm desperately trawling eBay for some! They remind me of the
Chloë Sevigny for Opening Ceremony
shoes that are all over the Blogsphere.
I might make my own version of the Knit Rosary, as I found a
little tutorial online
on how to make them! As much as I adore that Queens Wardrobe Dress, I simply cannot justify paying that sort of money for a dress, then with the shipping costs. I really hope I have to go to a summer wedding or christaning or ball or something-that-would-mean-i-need-a-nice-dress occasion!
Inspired by Alexandra
, I really want a Tie Dye Maxi, this BooHoo one is priced perfectly and could actually stop me from being so scared of Maxi's!
What are your current wants?