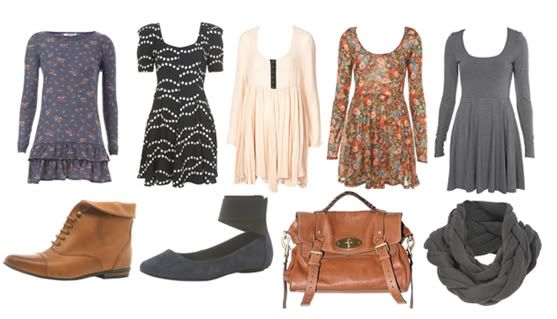 1+8,new look, 2+3+4+5+6. Topshop. 7 Mullberry Alexa
My objects of my desires right now. In the next few weeks I'm sure most of this will work its way into my already over following double wardrobe. I bought the first dress on a whim on monday (For 12.80, I have no idea how the woman worked that out because it was £22 minus double student discount, I wasnt complaining though) and Ive instantly fallen in love with it. Its totally not my style at all. Its a weird navy blue with small flowers all over with a frilly bottom, But i loved the high neck and long sleeves so decided to try it on. Too be honest all these things arent my normal style. This year Ive suddenly gone from black/white/grey everything, big chunky heel boots, blazers and mini dresses, to wanting to wear more... more... Im not sure of the word to be honest but oh well.
A Mullberry Alexa is next on my list of bags, I was going to get a Balenciaga City bag but as soon as this one popped up I knew it was the bag for me. Ive already got my holy grail bag, A Black Chanel 2.55 (THANKS GRANNY), but I feel I need a larger bag that I can carry all my work and bits and bobs around in. I best start saving my pennies now.
Anyway, What are you currently lusting after?
Sorry my posts and art are a bit slow at the moment, Ive got a deadline to meet on the 5th February and Ive had hardly time to think let alone blog. I'm always tweeting away, My links in the sidebar!