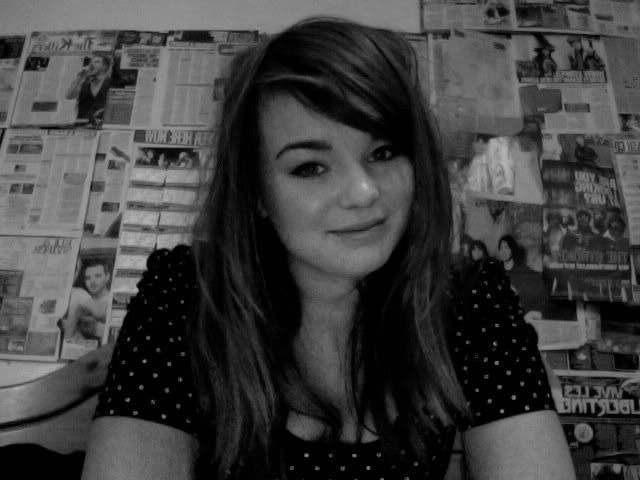 Heres the standard Macbook picture! Excuse the strange face.
And I am now with Macbook. So exciting! It came ridiculously quickly seeing as i only ordered it the other day! I think Im already in love with it! Not that I really know how to use anything, I cant find any of my driver discs to install my printer or anything to back my work up on, but hey Ive got a Macbook! I can definatly see the difference between this and my old laptop! The screen is AMAZING so detailed and soooo lovely. Its also a relief to not have to have headphones or speakers plugged in! I think ill post a comparison of the old one and the new one tomorrow when Ive got some better light!
Onto other things
MAC
related, as in the makeup company, Im totally in love with the new
Warm And Cozy Collection
. Anything warm and neutral gets my attention. Im going to buy the By Candlelight MSF, Warm Me Up Lipstick and 2n Lipgloss or the Feelin' Good Tinted Lip Conditoner. I wish they'd repromote 3n lipstick as that was my Holy Grail until it ran out!
AND finally in art news, I promise to have my Zine done by the end of the week, so if anyone wants a copy once Im done ill be more than happy to send them one. I also need to upload more of my sketchbook stuff, I have about 12 pages to upload. But i fear my scanner is broken, I keep getting weird lines down all the things that I scan.